The Art of  Sorting project combines a number of aspects and challenges that ASEKOL deals with and resolves on a day-to-day basis. The ASEKOL collective system operates the densest publicly-accessible e-waste collection network among all collective systems in the Czech Republic and indeed in Europe. It promotes its mission of natural conservation and the collection of e-waste within outdoor activities, which in most cases are subordinate to the charitable purpose of the event itself. Together with foundations and social partners, it helps protect those in need, including disadvantaged children, seniors, disabled persons and the natural environment. ASEKOL devotes maximum attention to awareness raising and the eduction of children and teachers, such as through its Recycling Game and Cleaning Up the World projects. The company has received a number of consecutive TOP RESPONSIBLE COMPANY gold certificates in recognition of its approach to corporate social responsibility (CSR).
ASEKOL operates a network of red containers used to collect small household appliances and other e-waste at its collection points and wants to highlight e-waste collection through this project. There are more than 3,600 containers across the Czech Republic and their numbers continue to increase. They are an original solution to collecting small appliances and e-waste, which all too often end up in municipal solid waste stream. It also continues to deal with a long-term issue related to vandalism and pickers, who often break into the containers with an eye on making a tidy profit in the form of functional devices, but in reality the e-waste is non-operational and obsolete, and ultimately useless.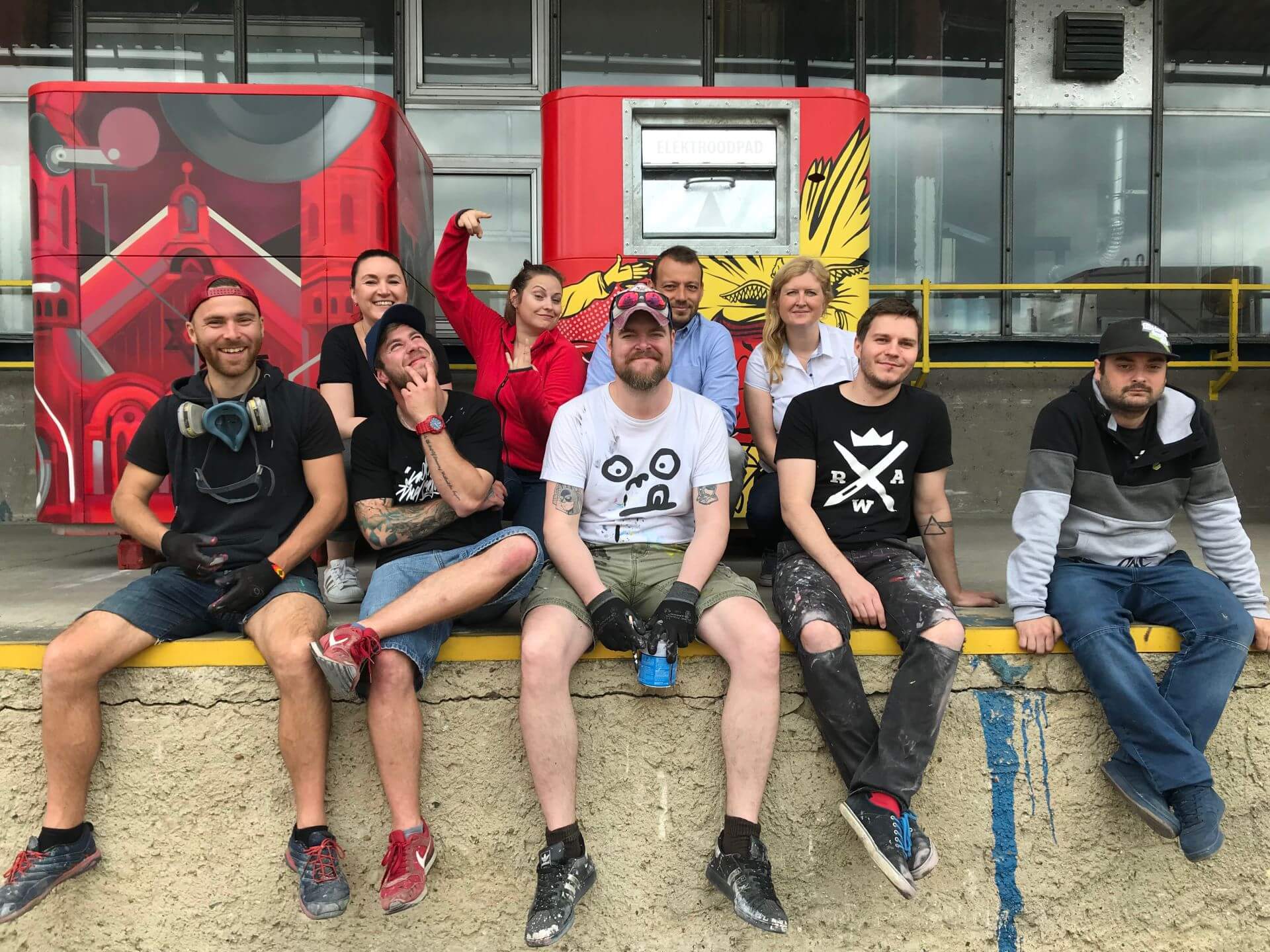 The Art of Sorting project is a cute anagram playing on the fact that sorting is sometimes art and the classic concept of art as such, in this case street art. It combines support for nature conservation, the protection of containers themselves, and building awareness that red containers are and will continue to be part of the public space. The lengths that people are willing to go in sorting waste get shorter with each passing year, and therefore it is necessary to have more and more collection containers available at more accessible locations.
To ensure the project reaches and has the greatest impact on the largest radius of people, it was necessary to expand its scope to cover the entire Czech Republic. Sprayer Nikola Vavrous (KHOMA) is the lead coordinator in the project's artistic department, who brought together artists and street art artists and created 14 containers for ASEKOL intended for regional cities. Every container is an original design and speaks to the essence of its home city. The designs were finalised after a year of preparations and implementation began in Roudnice nad Labem in May 2019, followed by their gradual distribution to the individual cities in the second half of August.
The first container was created more than a year ago for Pardubice and was a kind of test prototype that was intended to ensure that such a modified bin wouldn't become a target for vandals and pickers. It was also intended to see if experience from other European cities and for example from New York would occur, where street art would reduce criminality and vandalism, especially in no-go zones, meaning in places where it was generally considered unsafe to go.
The Art of Sorting project is unique for its complexity and originality. Artists, who received a very simple assignment on one side: to create an image of the city and combine it into a motif for collecting e-waste. The cities responsible for reviewing the designs and proposing a feature, landmark or character as a typical representative of the city on the other. Each of them proceeded in their own way, whether it was a rendering of a theme, where designs were painted using the assistance of a graphic design program or "freehand" using different techniques, including spraying, painting with brush, felt-tip pen, etc. Some designs were abstract and focused on a depiction of the future, where e-waste had taken over the world, while others were made to imitate local statues, architecture or characters, such as the container located in Olomouc, which has a comic version of the Holy Trinity and a caricature of chef Přemek Forejt.
The installation of the project certainly wasn't the end. Voting is set to choose a favourite container and will take place from 2 September to 13 October 2019, along with a contest intended to support the dissemination of information about the need to collect e-waste using the red containers and for nature conservation. The container selected as the best will win a prize for its city, which will receive a financial contribution to support environmental or CSR activities. The containers will be beautifying the streets of their home cities for at least a year, and we hope they'll make it through without a scratch.
Selected containers will be part of an exhibition at the DESIGNBLOK trade fair in Prague's Holešovice from 17 to 21 October 2019.