Description of the container:
The container depicts city symbols and depicts young energy and lightness in a style that represents the mood of the city. In the original design, Edison's bulbs were also inspired by the "Tribute to Edison" statue by Tomáš Medek, but they were not sprayed on the container because the bulbs do not belong in the red containers. The author of the design Yvans is an illustrator directly from Brno. Phormel sprayed the work in Roudnice nad Labem.
Address where the container is located:
Nové sady x Hybešova, Brno – Střed
Ivan Svárovský
A graphic artist and illustrator living in Brno, his work is released under the name yvans. He is dedicated to art using traditional techniques and digital forms, from simple illustrations and collages in periodicals to full-scale interior designs. His strongest platform is clearly the digital sphere connected with technologies. He moves easily and with a great deal of creativity in the multimedia space. His view of the world is optimistic, rippling but colourfully toned and harmonized.
He started his career as a graphic designer in 2007 at Meatfly, where he remained until 2013. That year was a milestone in Svárovský's career and he has worked as a freelancer ever since. He is engaged in long-term cooperation with projects such as DJ duo Malalata (the Balkan Bashavel series), Student Majáles, Fokus Fest, Barlife magazine and more. Commercial orders continue to come his way thanks to joining the DRAWetc. graphic studio (since 2007) from Starobrno, Raiffeisenbank, Vodafone, Red Bull, and E-ON. He founded the fashion brand Cult of the Road in 2013, which has slowly and surely built up a distinctive reputation among lifestyle streetwear brands. He becomes a member of the newly formed Hearts of Creation illustrators' association in 2013 as well.
"I am glad that I was able to participate in the project and create designs for objects installed directly in the city environment. This is a new experience for me and I like Brno, where I was born and live, and Olomouc, both for their atmosphere and historical genius loci, and for their openness to modern art."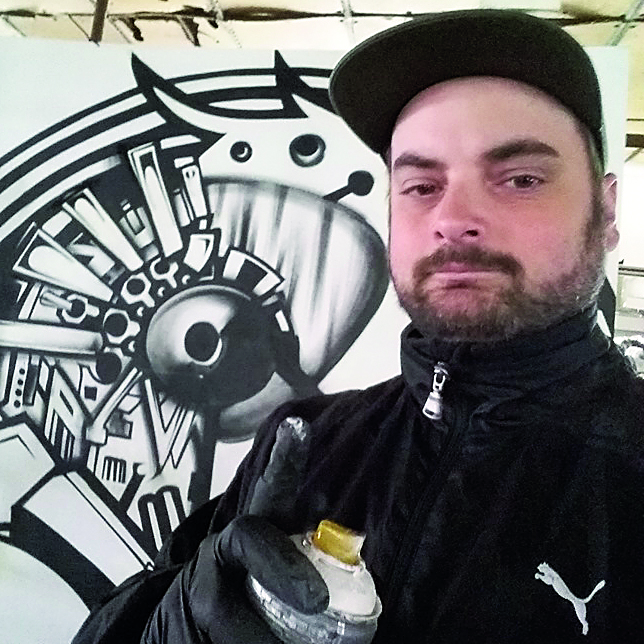 Oto Vehovsky (Phormel) (11/10/1982 *, Ostrava)
I earn my living as a freelance artist, doing custom design and creative work, painting exteriors, interiors and painting paintings, mostly in a non-analogue form. My biggest hobby is graffiti. I am also a member of a group of artists called Bulldozero, which has participated in the artistic beautification of our home town of Ostrava. In the past, I have exhibited my paintings many times in many different places, from clubs to galleries. After a nearly two-year pause due to a serious accident, when I had to learn how to do everything all over again, I am now ready to face new colour challenges…