Description of the container:
A prototype to verify the feasibility of the project. The design captures the spirit of the Velké pardubické horse race, where racing dynamics are depicted in parallel to the fast-developing city and life in it. The container was undamaged over the duration of its installation period of more than a year, and no one even tried to get inside. We believe that all our spray painted containers, just like the ones in Hradec and in Pardubice, will continue to beautify the streets under the protection of street art.
Address where the container is located:
Pardubice, 
Josefa Janáčka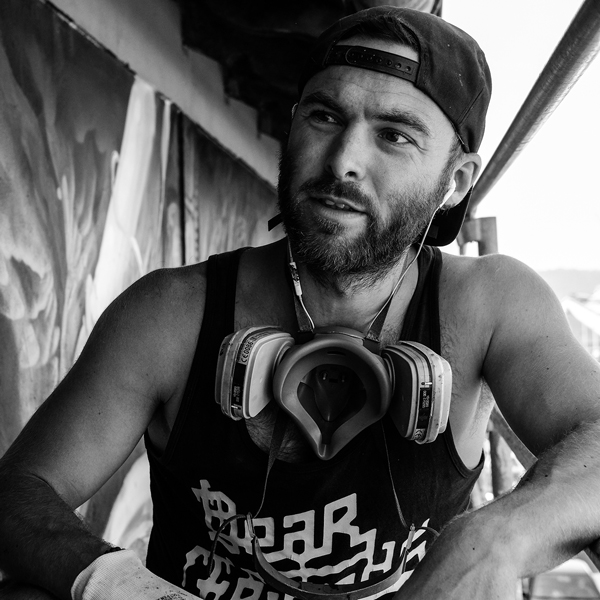 Nikola Vavrous (Khoma) (28/10/1985, Havířov)
Nikola is the head of the entire project and took charge to make sure everything went ahead as planned from the design preparation phase, to their installations as painted work on the individual containers. Nikola has created since birth. He was smitten by the world of graffiti from the age of 12, and he gradually began creating his own work. He soon learned that the adrenaline rush just wasn't his cup of tea and instead began looking for ways to create large-scale paintings on city streets. He initiated the establishment of many legal spaces for sprayers in the Moravian-Silesian Region and has organised travelling street art festivals since 2008 to support artists, schools, companies and public entities while bringing art to city streets. He creates custom works for interior and exterior for both individuals and companies. He also paints and creates large-format murals. Other artists are often brought in to collaborate on many projects.
"I perceive demand as energy that returns to me by what I transmit. That's why any project that makes sense to me is a challenge. Connecting illustrators, the digital world and painting, combining a motif of the city and sorting e-waste represented a tremendous opportunity for me to use everything I known and I believe that the result with evoke joy in everyone who encounters our work on the street."